On Saturday, July 25, 2015, we hosted the "Finding roots in Brotherhood Way" neighborhood activity day.  This successful event was organized by Tiffany Ng from the Chinese Progressive Association, Tere Almaguer from PODER (People Organizing to Demand Economic and Environmental Rights, youth leaders from the Common Roots program, and the project team.
The day featured a relaxing gathering of neighbors, food, and activities.  Jerad Weiner from SF Public Works, presented on the project status.  The Brotherhood Way Community Garden project has received funding in the Mayor's 2015-16 budget, Supervisor Avalos' office provided additional funding and the project will also receive funding from the Department of Environment Carbon Fund. This is exciting news because the project now has the resources to move forward to a construction phase. Youth leaders from the Common Roots program presented the findings of their neighborhood community survey that they have been working on the past few month.  Bill Bulkley from SF Public Works Landscape Architecture presented the final concept design and answered questions regarding the final design.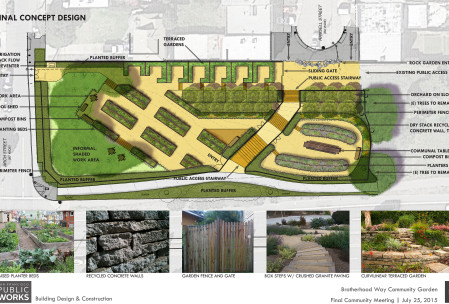 Next steps for the project involve developing more detailed construction drawings so that a implementation schedule and final cost estimates can be more accurately created.  We hope to have the drawings completed within the next few months.  Once we begin the construction phase, we will renew our engagement efforts with the neighborhood and the project Champion group to begin to form some semblance of a garden leadership structure.
We appreciate everyone's continued involvement in the project and look forward to seeing this vision become a reality.