Thank you to those who took time out of your Thanksgiving holiday week to participate in the second community meeting for the Brotherhood Way project. We appreciate your involvement and feedback.
Upcoming Events:
Saturday January 24, 2015 – On-Site Activity Day
Check back to the website for updates!
Meeting Recap:
The meeting on Monday continued to focus on our efforts to build community capacity which will be essential as this project moves forward.  Attendees participated in two activities; the first activity was an "elbow-to-elbow getting to know you" exercise which got attendees out of their seats and talking to one another.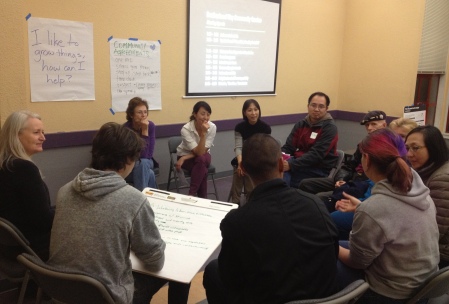 For the second activity, we broke into smaller group discussions where we surveyed what skills individuals could contribute to the project, what skills they would like to learn from the project, what changes they would like to see in the neighborhood, and what they would like to see in the garden.  Reporters from each group shared their discussion with the larger group; here is a summary of what we heard:
What skills can you contribute?
Artists, gardening with different vegetables, knowledge of micro-climates, carpentry and electrical, composting, sign making, fundraising, translation and language skills, ikebana (flower arranging), general construction, access to power tools, social media, photography, grant writing, web development.
What skills would you like to learn?
Gardening with vegetables, growing mushrooms, cooking with different types of fruits/vegetables, different planting techniques, bee keeping, medicinal plant and herb preparation, knowledge of local wildlife, health and exercise, tai-chi
What would you like to see in the neighborhood?
More opportunities for cross-cultural exchange, safer spaces, active spaces, more places for children to gather, places for neighbors to interact
What would you like to see on the site?
Space for play, experimental/ demonstration garden space, a place to share harvests, exercise (par-course), BBQ or eating spaces, common areas, fruit orchard, communal herb planting areas, translated signage, tai-chi space, sitting areas, benches, chess tables, communal garden spaces, areas for instruction and learning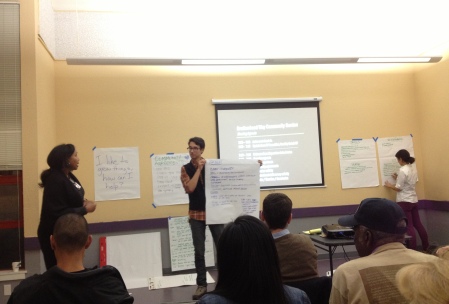 Overall, the group discussion was very productive and many great ideas were brought up. These activities and the feedback we recorded will be useful to identify our community's values which will help inform the design process.
We hope to see everyone on Saturday,January 24 for our on-site activity day!  Please feel free to contact jerad.weiner@sfdpw.org with any questions.