Thank you to the residents who participated in the Brotherhood Way Community Garden design and feedback meeting.  We were very excited to be able to share the designs that our SF Public Works Landscape Architects produced based on the feedback collected from the previous public meetings.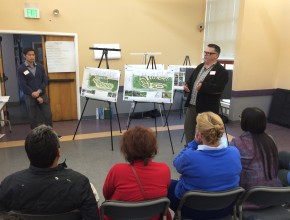 William Bulkley and Kevin Quach from SF Public Works gave a presentation which reviewed the results of their site analysis, consolidated feedback from previous public meetings, and three potential designs for the garden.
Meeting participants had the opportunity to look at the presentation boards, ask questions, and use post-it notes to provide feedback on the designs.  The participants were then split into small groups where they discussed the different elements that they liked, elements they didn't like, and general thoughts about the three designs.  Participants were also given individual worksheets where they were allowed to record and provide individual feedback on each of the designs.
Next, we conducted a dot voting exercise on the three designs where everyone was given three red dots and three green dots. These dots were placed on the designs so we could see collectively the elements that the group liked and didn't like. This exercise allowed the entire group to identify design elements that had consensus and other elements that required further discussion.
All of the feedback collected at this meeting will be complied and incorporated into a second draft design of the garden.  We are aiming for a second design meeting in June to present the revised design and discuss next steps in the project.
We are still looking for residents who would like to take a more active role in the project and serve on our Champions Group.  Please feel free to contact Jerad Weiner if you have any questions about the project or how you can get more involved.  Jerad.Weiner@sfdpw.org , 415-641-2637
Here are the boards that were presented at the meeting:
Board 1: Topographical Survey (pdf)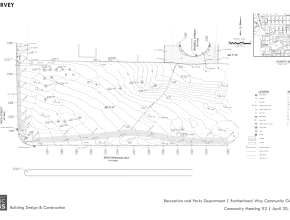 Board 2: Site Analysis (pdf)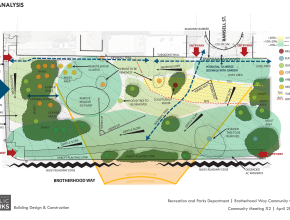 Board 3: Image Survey Feedback (pdf)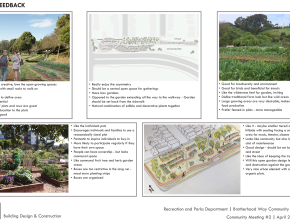 Board 4: Skill Share Feedback (pdf)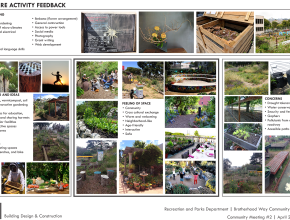 Board 5: Design A (pdf)
Board 6: Design B (pdf)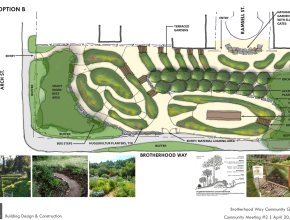 Board 7: Design C (pdf)